Aged 87, Arata Isozaki is to be awarded 2019 Pritzker architecture prize, widely considered the highest honor in architecture, for his wide-ranging and "undefinable" architecture. We take a look back the life and work of this multi-award winner to find out why the Pritzker panel chose Isozaki.
Biography
Born in 1931, he grew up in a time of change. The atomic bombing of Hiroshima across the shore from his hometown of Oita occurred when he was just 14 and were to have a profound impact on his life and career.
When I was old enough to begin an understanding of the world, my hometown was burned down. Across the shore, the Atomic bomb was dropped on Hiroshima, so I grew up near ground zero. It was in complete ruins, and there was no architecture, no buildings and not even a city. Only barracks and shelters surrounded me. So, my first experience of architecture was the void of architecture, and I began to consider how people might rebuild their homes and cities. – Isozaki
Isozaki is no stranger to the Pritzker architecture prize, after graduating from the University of Tokyo, he studied his apprenticeship under another Pritzker architecture prize winner: Kenzo Tange, who won the prize in 1987. Isozaki has also served on the prize board himself from 1979-1985.
Work
What makes Isozaki's work unique is that even though he has designed more than 100 buildings, every building is in itself, completely unique. From the brightly colored geometry of the Team Disney Building, to the somber concrete of his early creations such as Ōita Prefectural Library.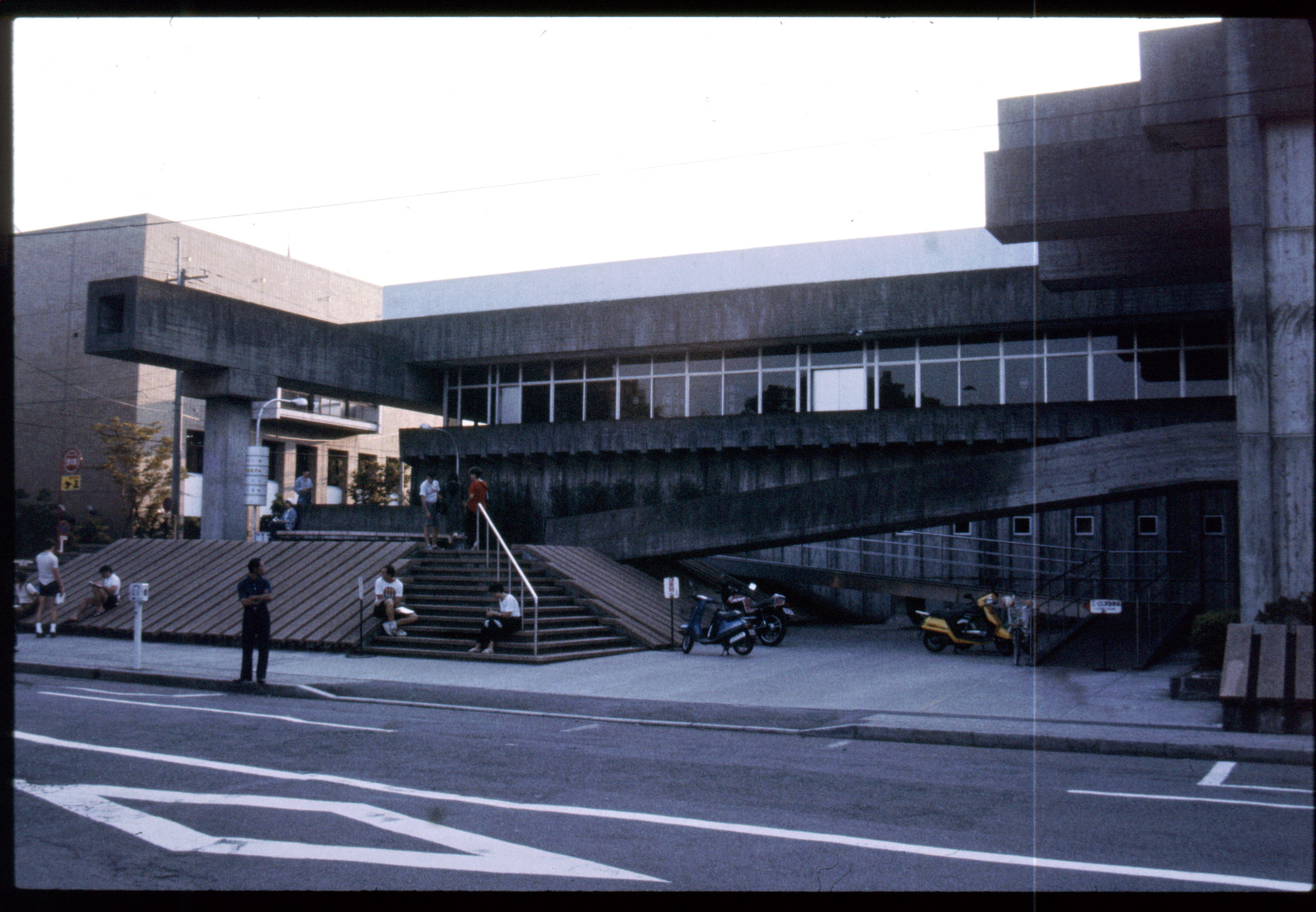 Although Isozaki himself claims that change became his style, there remains obvious links between all of his work: a strong focus on clean, modernist geometry, gravity-defying shape and a strong focus on the building's users. He is often heard talking about the power of "Ma" the space between two structural parts, the pause between sounds. Spaces in between things. The simultaneous appreciation of form and space. Which is evident with all of his design.
I could not dwell upon a single style. Change became constant. Paradoxically, this came to be my own style. – Isozaki
He is often cited as being one of the first architects to unite East and West. The museum of contemporary art Los Angeles in one of his most famous works and his first international piece. Completed in a time when it was highly unusual for Eastern architects to work in the west.
Then there are the more outrageous projects such as Ark Nova, or 'New Ark', designed in collaboration with Anish Kapoor. An inflatable, mobile concert hall design for the victims of the tsunami that hit Japan in 2011. It was named as a symbol of hope for the recovery after the disaster and was designed to rebuilt cultural spirit. The design was based on Leviathan by Kapoor, an art installation that filled the Grand Palais, Paris in 2011. After use, the orb could be deflated and packed on to the back of a truck.
Ark Nova obviously can't carry people and animals to escape from disaster, but we conceived the ark to travel packed with music and various arts, from the perspective of long-term rebuilding of culture and spirit – Isozaki & Kapoory.
The buildings that never were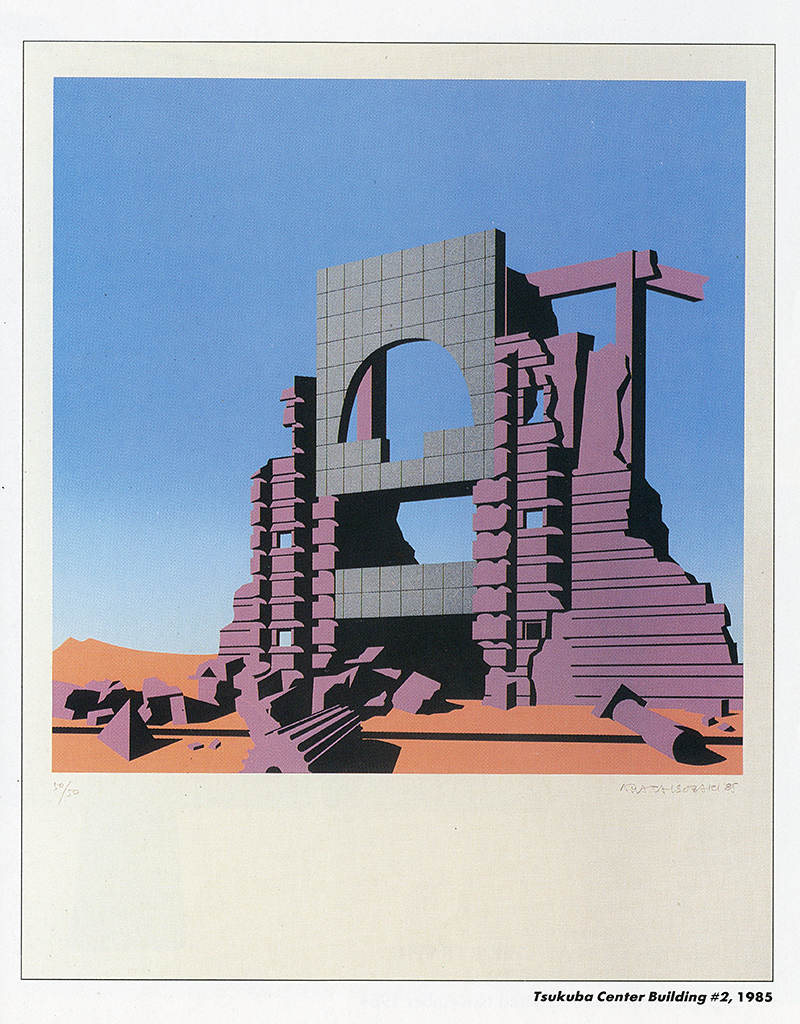 Even his concept art is unique. The bold, flat colors and graphic style is more reminiscent of album artwork that the traditional architectural sketches were are accustomed too.
The silkscreens produced for his proposal of New Tokyo City Hall are true works of art in their own right.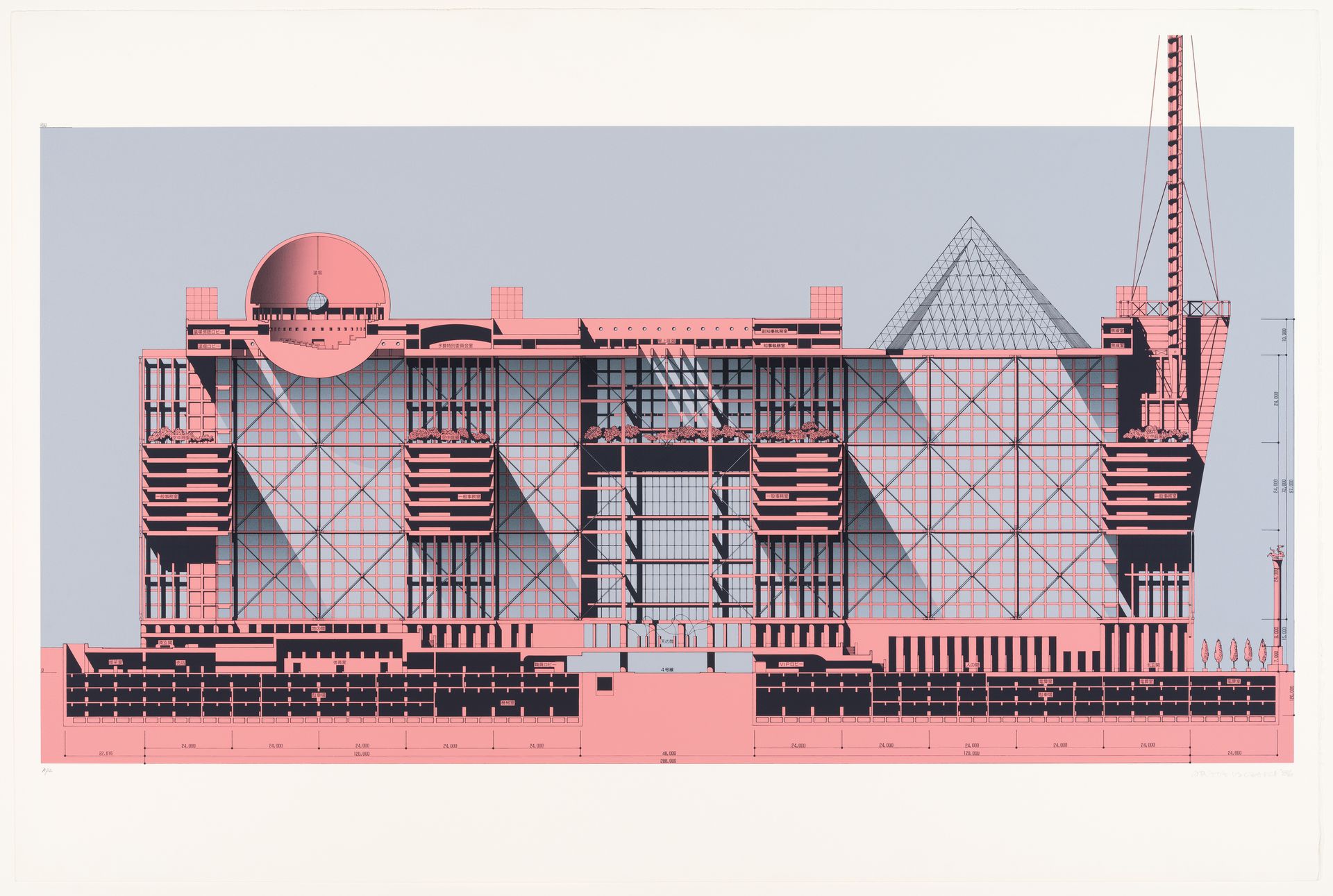 The scale models of his concepts are also delightful. Cities in the Air, a plan for Shinjuku. was never built but is stunning in its own right as an architectural piece. Buildings includes residences and transport suspended above the city and looks as though it would fit in a sci-fi movie.
Isozaki was one of the first Japanese architects to build outside of Japan during a time when western civilizations traditionally influenced the East, making his architecture—which was distinctively influenced by his global citizenry—truly international – Tom Pritzker, Chairman of Hyatt Foundation.
I wanted to see the world through my own eyes, so I traveled around the globe at least ten times before I turned thirty. I wanted to feel the life of people in different places and visited extensively inside Japan, but also to the Islamic world, villages in the deep mountains of China, South East Asia, and metropolitan cities in the U.S. I was trying to find any opportunities to do so, and through this, I kept questioning, 'what is architecture?' – Isozaki
---
TL;DR
Arata Isozaki (1931) is to be awarded the 2019 Pritzker architecture prize. The atomic bombing of Hiroshima across the shore from his hometown of Oita occurred when he was just 14 and were to have a profound impact on his life and career. He has worked globally and was one of the first Japanse architects to design in the western world. He designs are geometric, bold and varied, with a strong attention to the users and the spaces between the structure.