Last week marked the end of the 2019 Geneva International Motor Show. Gold concept cars, flying tires and the most expensive car ever produced. Keep reading to find out what happened.
Super Cars
Bugatti Voiture Noir
Bugatti have just unveiled their new gem: the Voiture Noir. No comment yet as to the exact specs but the price tag is a hefty $19,000,000 (€16,872,190). The most expensive car ever! The fuel consumption, 22.5l/100km (6gal/62mi) and it will have around 1,600Nm of torque. Something tells me this won't be a hybrid…
The design is based on Jean Bugatti's personal, black, Type 57 SC Atlantic Coupé of which only 4 were ever built. She was lost during the war and was never seen again.
Lego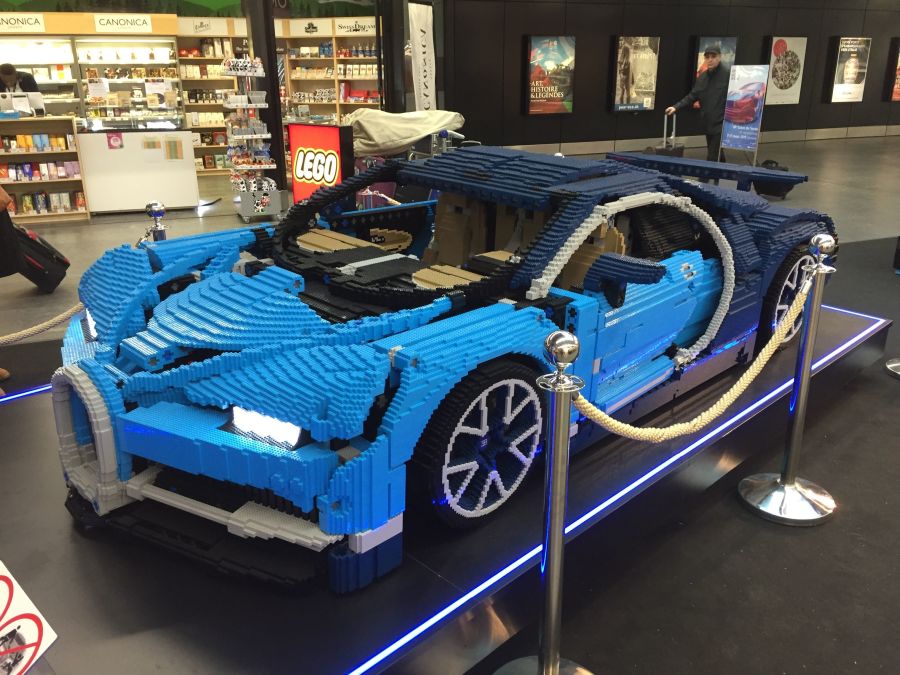 For those of you that don't have the budget for that, Lego are offering a more affordable Bugatti. Not sure about the handling, but at least the mechanic wouldn't be able to suck air through their teeth and to tell you it might take a few weeks for a new part.
Ferrari F8 Tributo
The Ferrari F8 Tributo boasts outstandingly developed aerodynamics and a V8, 720hp Turbo Engine with a 7 speed, F1 gearbox, providing 770Nm of torque. Ferrari have utilized the technology developed for the Ferrari F1 cars to create yet another high-performance vehicle. If you head over to the website you could even listen to the engine!
It weighs 1330kg (2932lbs), 0-100km/h (0 – 62mph) 2.9s / 0-200km/h (0 – 124mph) 7.8s and has a top speed of 340km/h (211mph)! No word yet as to the fuel consumption.
Don't worry, even though the Geneva model is blue, the car is still available in Ferrari red!
Crazy Cars
Engler F.F. Superquad
Resting on the display like Robins' answer to the Batmobile, it's the Engler F.F. Superquad. It features handlebar steering and achieves 0-100km/h (0 – 6mph) in 2.5s, potentially leaving the Ferrari for dust in a drag race. It has a top speed of 350km/h (217 mph), thanks to its 5.2-liter, twin-supercharged, V10 and quite ridiculous a power to weight ratio of 1:1, 800hp:800kg (1764lbs).
The Engler F.F. Superquad might be the nuttiest thing that's planned for actual production – Autoblog
It also has no windshield, no seatbelt, and no roll cage. Maybe the Slovakian designers assume you'll be better of being thrown from the vehicle in the event of a crash.
Mansory S-Class Convertible
Mansory have managed to show that there is more than one way to create show-stopping design. Their S-Class Convertible, the self-proclaimed "sports yacht for the road", was brought out on display in a pale aqua color. Even the alloys and the leatherwork was given the aquatint and it's been causing quite a stir.
Concept cars
Golden Sahara II
The Golden Sahara II is a concept car from the past, brought back to life for Geneva 2019. It was autonomous long before most car designers were a twinkle in the milkman's eye and it truly screams of luxury with its 24-karat gold finish. It boasts mod cons that even some modern cars lack such as an airplane inspired driving stick and an early version of radar anti-collision detection.
It was built in 1958 by Delphos Machine and Tool shop. The Jetsons-style, domed, glass roof, and neothane luminescent tires are a nod to the space race and are quintessentially of the time. In its heyday it even stared in a film: Cinderfella in 1960, but eventually was abandoned and left to rot in a garage.
Recently, it was sold in auction for $350,000 (€310,422) and restored to its former glory by Speakeasy Customs. Now that the Geneva show is over it will return to the US and live as part of the Klairmont Kollection, Chicago.
Renault EZ Ultimo
Renault imagines that in a world of driverless cars, driverless limos are a sure thing. Enter the EZ Ultimo. The concept is 100% electric and features an interior reminiscent of swanky hotels, which is exactly who Renault hope to sell to. However, it remains to be seen if a faceless vehicle can replace a mild-mannered, white-gloved driver in an automated future.
Somewhat quizzical are the wheels. One wonders how well the design will fair on uneven road surfaces and speed bumps.
Citroen AMI-One
A slightly more production-ready concept car is the Citroen AMI-One. It proves that you don't need a driving license to drive and that there is really nothing you can't do with a smartphone.
Its top speed of 45km/h (28mph) and low weight of 450kg (992lbs), means it meets Europe's quadricycle regulations and can be driven in some countries without a driving license. It uses a smartphone as its dashboard, so at least these unlicensed drives won't be taking selfies at the same time!
Bugatti Baby II
More opportunities for unqualified and underage drivers to get behind the wheel with the Bugatti Baby II. This is a ¾ size replica of the 1924 Bugatti Type 35 and can be driven by children and adults alike. It has an electric engine and its top speed can be limited to 20km/h (12mph) 1kW – "Child Mode", 45km/h (28mph) 4kW – "Adult Mode" and an optional Speed Key upgrade which will disengage the speed limiter and provide the engine with 10kW of power – Blaze of Glory Mode mayhaps? There will only be 500 made and each will feature a 50g, silver badge.
Flying Cars
PAL-V Liberty pioneer Edition
Are flying cars coming soon? According to PAL-V the answer is yes! There will be 90 Liberty Pioneer Edition cars produced at just $600,000 (€532,098) each, cheaper than a Bugatti although not as fast! On land it has 100hp and 0-100km/h (0-62mph) < 9s, with a top speed of 160 km/h (100mi). In the air it has 200hp and a maximum speed of 180km/h (112mph) with a range of 1315 km (817mi). Although you'll definitely need a license for these.
It holds up to 2 people and 20kg of luggage, so no heavy packing.
Goodyear Aero concept tire
In a world of flying cars, you'll need flying tires. That's the thinking behind the Goodyear Aero concept tire. The tire is not air-filled but instead relies on the blade to flex and act as a suspension when driving. Incredibly the blades are still strong enough to provide lift.
Magnets are used in the bearing to allow frictionless rotation and electromagnets are used to create rotation with minimal power loss.